IC690USB901:USB/SNP interface GE 90 series PLC programming cable
USB/SNP interface GE 90 series PLC programming cable,3 meters,with communication indicator,the largest communication distance of up to 1.5 kilometers.
IC690USB901 programming cable simulate USB port as traditional serial port (usually COM3), which enables existing programming software (CIMPLICITY ME) to communicate through simulated traditional port and PLC devices. In this product, the power supply is provided by USB port, not by the PLC programming port, two-color LED on the adapter indicating the status of sending and receiving data, IC690USB901 cable programming applies to GE 90 Series PLC, the largest communications support to reach 1.5 kilometers away.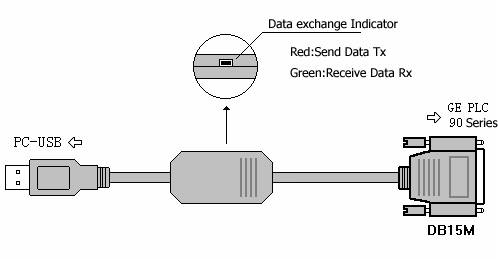 Characteristic and technical specification:
● The operating system that supports IC690USB90 : Windows2000/XP (WinNT4/95/98/Me/DOS support)
● The programming software release that supports IC690USB901: CIMPLICITY ME V5.0 and above
● The standard that completely compatible USB V1.1 and USB CDC V1.1
● USB main line supply power and current sinking approximately 50mA
● Baud rate: the 300bps~1Mbps standard baud rate adapts automatically
● Supports the UART data format: Data position: 7th, 8, stop the position: 1st, 2, verification position: odd/even/no parity
● Support long distance correspondence, biggest signal distance 1.5 kilometers (when 19200bps)
● Each PC only supports a USB programming electric cable
● Operating temperature: - 20~+75℃
● Cable length: 3 meters, color: Black
Remote communication:
The maximum signal distance between IC690USB901 programming electric cable and the PLC may amount to 1.5 km (when 19200bps). The user must self-extend electric cable through the following chart and the order wire uses the cross-sectional area is the 0.22mm2 above shielded twisted pair. When the distance is longer than 1500 meters may install the RS422 repeater (the model: E485GA) in the line to lengthen the signal distance.
note: Cannot lengthen the USB connection the electric cable.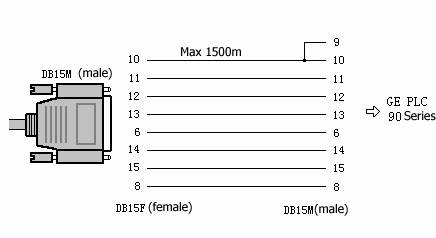 The quality is guaranteed.It's tested before shippment.Not made by GE,OEM product as the replacement.
After you place the order on line,pls contact us and we will calculate the freight fee for you according to your requirements.
The item will be delivered within 3-5 working days once payment is received and cleared.Please pay within 3 days after your order.